In the ever-evolving world of blogging, a captivating website design is essential to captivate readers and establish a unique online presence. "The Ultimate Collection: 15 Free WordPress Blog Themes for 2023" serves as a beacon for bloggers seeking to stay ahead of the curve in the digital realm. This carefully curated selection showcases the latest and most aesthetically pleasing WordPress themes available, all tailored to meet the demands of the modern blogger. Whether you're a seasoned content creator or just embarking on your blogging journey, this collection offers a diverse array of free themes that will not only enhance the visual appeal of your blog but also provide a seamless user experience for your audience.
In this collection, we delve into the dynamic world of WordPress blog themes, examining their features, customization options, and suitability for various blogging niches. From minimalist designs that emphasize content readability to visually stunning layouts that make a bold statement, these themes cater to a wide range of preferences. Whether you're a lifestyle blogger, a tech enthusiast, or a food connoisseur, you'll find a theme that aligns perfectly with your blog's identity and goals. Stay tuned as we explore these 15 exceptional themes that promise to elevate your blogging experience in 2023 and beyond.
Best WordPress Themes For Blogs (Tested & Compared)
Blog Prime
Let's kick off our list of best WordPress themes with Blog Prime, widely recognized as the most customizable theme on our list. In today's fast-paced digital landscape, establishing a compelling online presence is paramount, whether you're an artist showcasing your portfolio, a business building a corporate site, a passionate blogger sharing your thoughts, or an entrepreneur promoting your products. At the heart of this endeavor lies the need for a versatile and visually appealing blog that captures the essence of your content while offering flexibility in design. This is where Blog Prime steps in, a web solution that seamlessly blends the elegance of a clean and eye-catching blog with the power to craft unique page layouts. Blog Prime isn't just another website template; it's a dynamic tool that empowers you to swiftly achieve your online goals. Moreover, it doesn't compromise on performance, as it's compatible with all modern browsers, responsive on all screen sizes, and optimized for speed. Join us on a journey to discover how Blog Prime can elevate your online presence to new heights, making a lasting impression in the digital realm.
Price: free of charge, Premium Version started from $49
Average rating: 5 out of 5 stars
Major benefits:
Versatile and Visually Captivating Design
Flexible Page Layouts
Speed and Performance Optimization
Responsive on All Devices
---
Flash Blog
Step into the world of blogging excellence with Flash Blog, the quintessential WordPress theme designed to cater to both seasoned professionals and aspiring bloggers alike. In an era where a compelling online presence is the key to success, Flash Blog stands as the epitome of modernity, cleanliness, and responsiveness.
Crafted with meticulous attention to detail, this theme is more than just a website builder; it's your ticket to establishing a standout online identity. Tailored for professional bloggers and those aspiring to join their ranks, Flash Blog offers a comprehensive suite of options and features, all easily customizable. This means you have the power to shape your online space exactly as you envision it, ensuring it truly reflects your unique voice and style.
Price: free of charge, Premium Version started from $49
Average rating: 5 out of 5 stars
Major benefits:
Professional Blogger-Ready Features
Modern and responsive design
User-friendly customization options
Unique website creation freedom
---
Minimal Blog
In the fast-paced digital age, a captivating online presence is essential, and Minimal Blog stands at the forefront of modern web design. This dynamic WordPress theme is a masterpiece of simplicity, offering a clean, responsive, and retina-ready platform that effortlessly caters to bloggers, magazines, newspapers, and review sites alike.
Minimal Blog boasts a plethora of impressive features that ensure your content shines. At its core, a striking featured posts slideshow captures your audience's attention from the moment they land on your site. The magazine homepage template provides a professional touch, making it ideal for content-rich websites, while the elegant two-column layout balances aesthetics and functionality seamlessly.
Whether you're a seasoned blogger or a media powerhouse, Minimal Blog elevates your online presence, offering a contemporary and visually appealing platform. Embrace the future of WordPress themes with Minimal Blog, where design excellence meets user-friendly functionality, and make your digital mark with style and substance.
Price: free of charge, Premium Version started from $45
Average rating: 4.5 out of 5 stars
Major benefits:
Clean, Modern, and Responsive Design
Two-Column Layout for Content Focus
Visually Appealing and User-Friendly Interface
Retina-Ready for Stunning Graphics
---
Memoir Lite
In the dynamic world of online expression, your digital presence deserves a theme that's as unique as your voice. Introducing Memoir Lite, a vibrant and imaginative WordPress Blog theme designed to ignite your storytelling journey. Whether you're an artist, a small business owner, or an avid blogger, Memoir Lite is your canvas for crafting captivating narratives with a dash of playfulness and creativity.
This theme isn't just a template; it's a vibrant playground for your ideas. Memoir Lite's bold and fun style sets the stage for your stories to shine. With its intuitive customization options, you have the power to personalize your website effortlessly, making it a true reflection of your personality and brand.
Join a community of creatives who have chosen Memoir Lite to tell their tales in a way that stands out. It's time to break free from the ordinary and embrace a theme that sparks your imagination. Share your stories with the world, create a lasting impact, and let Memoir Lite be your trusted companion on this exhilarating digital journey.
Price: free of charge, Premium Version started from $49
Average rating: 4.5 out of 5 stars
Major benefits:
Responsive layout ensures mobile compatibility
Engaging storytelling with a bold style
Quick loading, reducing bounce rates
Built-in widgets for added functionality
---
Aythias
Aytias is a remarkable and sleek multipurpose blog theme designed to elevate your online presence. Its minimalistic yet responsive design ensures that your website not only looks beautiful but also performs seamlessly across various devices and screen sizes. With extensive support for post formats, Aytias empowers you to exercise complete control over the presentation of your blog posts on archive pages, enabling you to create a unique and engaging user experience.
While Aytias is a natural choice for bloggers seeking to showcase their content in style, its versatility knows no bounds. This theme is not limited to blogs alone; it can be effortlessly adapted to develop websites for diverse purposes. Whether you're venturing into the world of news reporting, sports coverage, or magazine publication, Aytias has got you covered. Its adaptability and user-friendly features make it the ideal choice for crafting websites that captivate and inform audiences across various niches.
Experience the freedom to create, design, and inspire with Aytias – the ultimate theme for crafting stunning and versatile websites.
Price: free of charge, Premium Version started from $49
Average rating: 4.5 out of 5 stars
Major benefits:
Enhances SEO with structured content layouts
Elegant, modern aesthetics enhance website appeal
High customization options for unique branding
Extensive post-format support for customization
---
Knight
Knight, the Gutenberg-supported WordPress Blog theme, is your ultimate solution for creating a captivating online presence. Whether you're an enthusiast in personal musings, a trendsetter in the world of fashion, a culinary connoisseur, a globetrotting explorer, a photography virtuoso, a digital publisher, or a tutorial guru, Knight is designed to suit your every need.
With its user-friendly interface and adaptable design, Knight empowers bloggers across diverse niches to effortlessly share their stories and expertise. It's the perfect tool to transform your blog into a limitless source of inspiration. From customizable layouts to stunning typography choices, Knight provides you with the creative arsenal to not only express your unique style but also engage and captivate your audience.
Unleash your creativity with Knight and make your blog the ultimate source of inspiration. It's time to share your passion and leave a lasting impact on your readers. Explore the possibilities and elevate your blogging journey with Knight.
Price: free of charge, Premium Version started from $49
Average rating: 4 out of 5 stars
Major benefits:
Gutenberg support for easy content creation
Responsive design for mobile optimization
Stunning typography options for readability
Customizable layouts for unique branding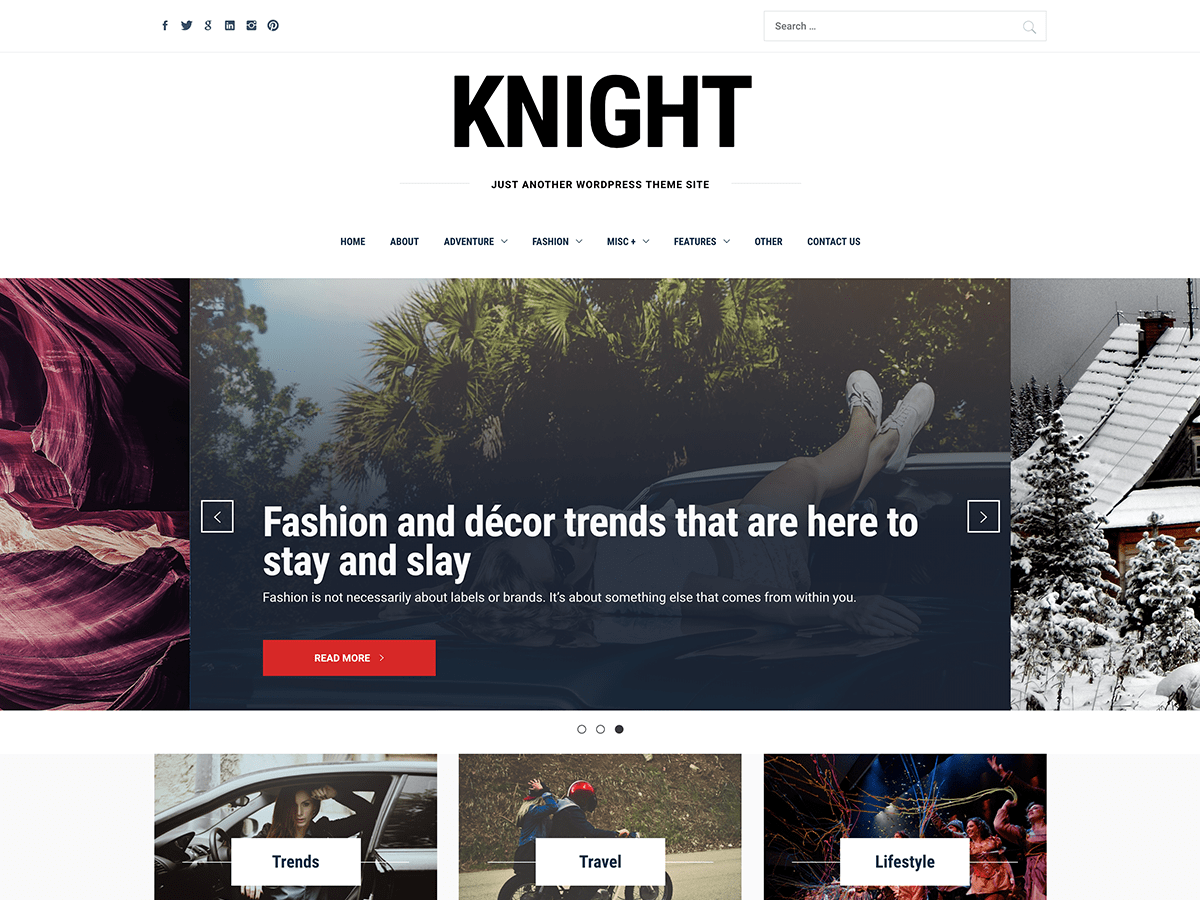 ---
Sports Blog
Introducing "Sports Blog," your gateway to crafting exceptional WordPress blog sites effortlessly. This sleek and contemporary theme has been meticulously curated to empower you with a plethora of diverse styles and customizable options. Whether you're passionate about sports commentary or any other niche, this theme promises an unparalleled user experience to cater to your unique needs.
With Sports Blog, customization is a breeze, allowing you to infuse your personal touch into every section and element. Its design seamlessly blends simplicity with attention to detail, ensuring a visually appealing and user-friendly interface. Furthermore, the theme boasts 100% responsiveness, ensuring compatibility across various devices and screen sizes. Dive into the world of blogging with ease and style, as Sports Blog empowers you to create an extraordinary online presence that resonates with your individual taste and requirements.
Price: free of charge, Premium Version started from $49
Average rating: 4 out of 5 stars
Major benefits:
Quick setup for efficient blogging
Easy customization for personalized aesthetics
Streamlined layout for a user-friendly experience
Detail-oriented design for visual appeal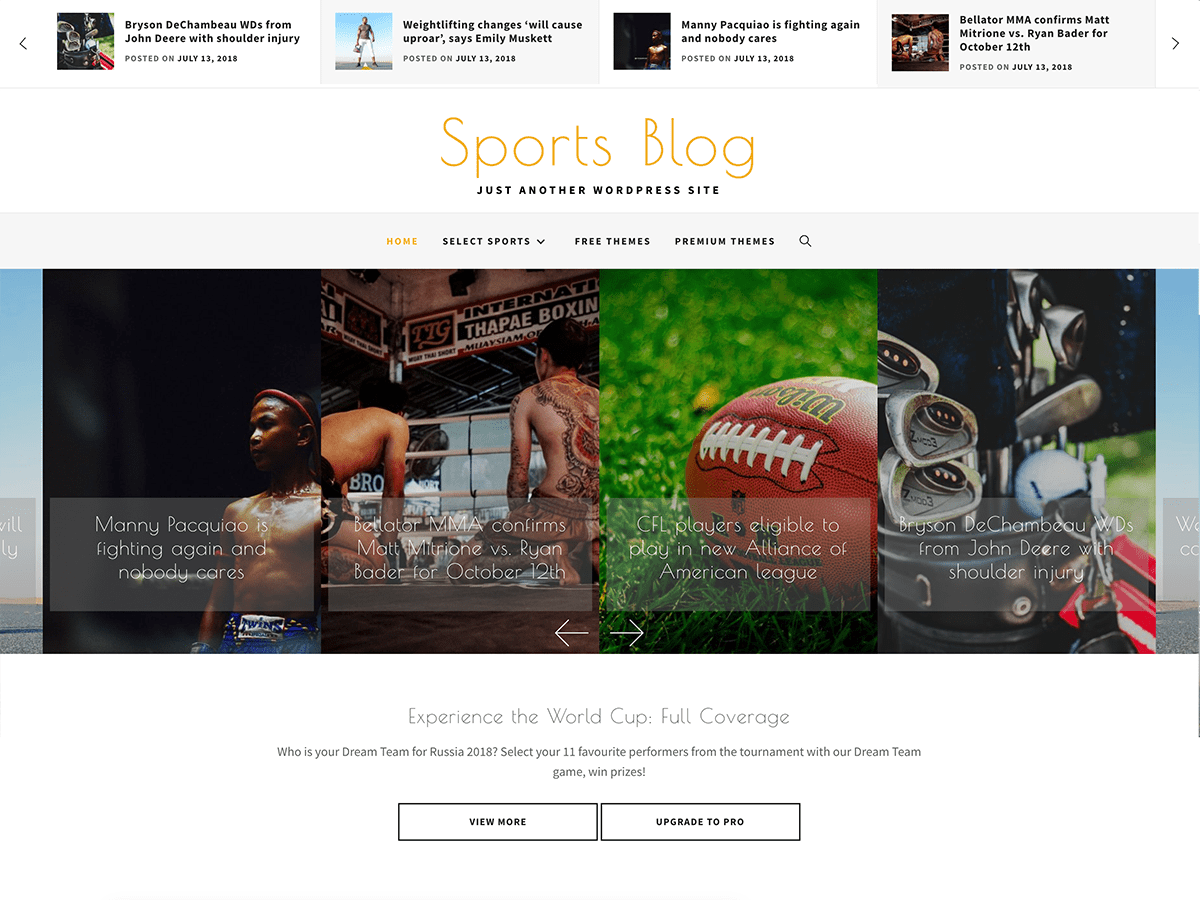 ---
Blogboost
Introducing Blogboost, the ultimate WordPress theme tailored for those seeking simplicity and a personal touch in their blog design. This elegantly designed theme offers a wide range of customizable style variations, making it the perfect choice for bloggers of all kinds.
What sets Blogboost apart is its remarkable blend of features. It's not just about aesthetics; this theme is SEO-friendly, ensuring your content reaches its full online potential. Plus, it's WooCommerce ready, allowing you to effortlessly monetize your blog. With lightning-fast loading times, your readers will enjoy an exceptional online experience, keeping them engaged and coming back for more.
And that's not all – it has comprehensive documentation is here to answer all your questions, and dedicated support team is always just a message away, ready to address any concerns you may have. Discover the possibilities with Blogboost and take your blog to new heights.
Price: free of charge, Premium Version started from $49
Average rating: 5 out of 5 stars
Major benefits:
Custom widgets for enhanced functionality
WooCommerce compatibility for monetization
Lightning-fast loading times for speed
Comprehensive documentation for easy setup.
---
BlogMotive
Blogmotive, is a remarkably versatile WordPress Blog Theme that redefines the art of website design. With its sleek and responsive layout, Blogmotive transcends conventional boundaries, offering a clean and contemporary aesthetic that effortlessly caters to an array of niches and industries. This theme's adaptability is truly noteworthy, ensuring your website seamlessly adjusts to diverse screen sizes, guaranteeing an immersive viewing experience on desktops, tablets, and mobile devices.
Blogmotive isn't just another theme; it's a feature-rich powerhouse that empowers you to craft a blog that captivates your audience like never before. Whether you're a passionate blogger, a seasoned wordsmith, or an enterprising entrepreneur seeking to establish a formidable online presence, Blogmotive provides the perfect canvas. It's a platform where your content comes to life, engaging your readers with a visually stunning and user-friendly interface that keeps them coming back for more.
Price: free of charge, Premium Version started from $49
Average rating: 4.5 out of 5 stars
Major benefits:
User-friendly interface for seamless navigation
Feature-packed and highly customizable
Sleek, responsive design for modern websites
SEO-friendly structure for better visibility
---
Adventure Blog
Are you ready to embark on a thrilling digital journey like no other? Say hello to the Adventure Blog Theme, an immersive WordPress theme designed to bring your adventurous tales to life. With its captivating design and feature-rich functionality, this theme is the perfect companion for intrepid explorers, outdoor enthusiasts, and storytellers who seek to share their escapades with the world.
The Adventure Blog Theme offers a breathtaking visual experience that transports your readers into the heart of your adventures. Its carefully crafted design ensures that every image and story you share is showcased in its full glory, captivating your audience and inviting them to join you on your virtual expeditions.
But the Adventure Blog Theme isn't just about aesthetics; it's a powerful tool for bloggers and adventurers alike. With its user-friendly interface and customizable features, you have the flexibility to create a blog that suits your unique style and content. Whether you're a seasoned traveler, an adrenaline junkie, or a nature lover, this theme provides the perfect platform to document your adventures, inspire others, and build a community of like-minded explorers. So, gear up and get ready to set sail into the world of adventure blogging with the Adventure Blog Theme!
Price: free of charge, Premium Version started from $49
Average rating: 4.5 out of 5 stars
Major benefits:
Supports multimedia-rich adventure storytelling
Customizable for a unique blog style
Tailored for outdoor and travel enthusiasts
Compatibility with multimedia content sharing
---
Anecdote Lite
Anecdote Lite, a captivating and versatile theme, offers a delightful canvas for storytelling on the digital landscape. With its minimalist design and user-friendly interface, it provides a platform where narratives take center stage, making it an ideal choice for bloggers, writers, and content creators seeking to engage their audience through the power of personal anecdotes and relatable tales. This theme is a breath of fresh air in the often cluttered and complex world of website design, offering a clean and elegant layout that puts the spotlight on your stories.
In an era when authenticity and human connection are valued more than ever, Anecdote Lite enables you to craft compelling narratives and share your experiences with the world. Its intuitive customization options allow you to tailor your website to your unique style, ensuring that your stories are presented in a visually appealing and coherent manner. Whether you're sharing travel adventures, life lessons, or personal reflections, this theme serves as a versatile platform that encourages meaningful storytelling.
Anecdote Lite isn't just a theme; it's a creative hub that invites visitors to immerse themselves in your world, forging connections through the art of storytelling. With its elegant simplicity and focus on content, it empowers you to create a digital space that resonates with your audience and leaves a lasting impression. So, if you're looking to breathe life into your online storytelling journey, Anecdote Lite is the theme that will transform your website into a captivating narrative experience.
Price: free of charge, Premium Version started from $49
Average rating: 4.5 out of 5 stars
Major benefits:
User-friendly and easy customization
Visually appealing and coherent layout
Clean and minimalist design
Ideal for bloggers and content creators
---
Retro Blog
Presenting Retro Blog: The Ultimate Mobile-Optimized WordPress Theme for Influencers and Infopreneurs! If you're a content creator looking to make a lasting impression, look no further. Retro Blog is meticulously designed with a clean, minimalist aesthetic, making it the perfect canvas to showcase your unique voice and expertise.
What sets Retro Blog apart is its unwavering focus on crisp typography and distinctive styling. Your content will shine, capturing the attention of your readers with its aesthetic allure. This theme not only enhances your online presence but also communicates authenticity and a commitment to delivering high-quality content. It's more than just a theme; it's a statement of your brand's sophistication and professionalism.
Price: free of charge, Premium Version started from $45
Average rating: 4.5 out of 5 stars
Major benefits:
Crisp typography enhances content readability
Mobile-optimized for broader accessibility
Customizable with native Customizer Theme options
Supports an effortless user experience.
---
Dhimay
Introducing "Dhimay" – a meticulously crafted music theme designed to empower musicians, bands, artists, DJs, producers, and all creative enthusiasts with a bold and extraordinary online presence. With its captivating dark mode, Dhimay sets the stage for a visually stunning website that not only captivates but also elevates your music journey.
Dhimay boasts an array of highly customizable features, making it the perfect canvas for showcasing your unique musical identity. It embraces modern design trends, offering a header video media option, an event section for promoting gigs, a compelling video call-to-action (CTA), and a dynamic blog equipped with an integrated media player. Additionally, Dhimay offers dedicated music-focused sections such as Playlist and Sticky Playlist to keep your audience immersed in your sonic world.
Whether accessed on a mobile device or desktop, Dhimay's super clean responsive design adapts seamlessly to any screen size. Your music will shine through effortlessly, making Dhimay the ideal choice for turning your passion into an immersive online experience that resonates with fans and fellow artists alike.
Price: free of charge, Premium Version started from $49
Average rating: 4.5 out of 5 stars
Major benefits:
Video CTA for audience interaction
Promote events with dedicated sections
Bold and extraordinary dark mode design
Seamless Playlist and Sticky Playlist
---
Classic Blog
Classic Blog is a meticulously crafted WordPress theme tailored for the modern blogger. With its clean, minimalist, and responsive design, Classic Blog embodies elegance while keeping up with the latest design trends. Whether you're a seasoned pro or just starting your blogging journey, this theme is your perfect companion, requiring no prior coding knowledge.
It offers a plethora of user-friendly options and features, making customization a breeze. This flexibility empowers you to shape your blog into a truly unique online presence. From layout choices to color schemes and typography, Classic Blog provides you with the tools to turn your passion for blogging into a full-fledged profession.
In a world where online presence is paramount, Classic Blog ensures that your content shines with style and grace, attracting and engaging your audience effortlessly. Experience the blend of sophistication and user-friendliness, and take your blogging aspirations to new heights with Classic Blog.
Price: free of charge, Premium Version started from $49
Average rating: 5 out of 5 stars
Major benefits:
Clean, minimalist, and responsive design
Trendy and elegant design aesthetics
Rich typography customization capabilities
Offers versatile color scheme options
---
Narrative Lite
If you're in search of the ideal theme to elevate your modern blog to the next level, look no further than Narrative Lite. This versatile and user-friendly theme offers a host of customizable options that make it a must-have for bloggers who crave both style and functionality.
One of Narrative Lite's standout features is its ability to let you personalize fonts and colors, allowing you to craft a blog that truly represents your unique vision. Whether you're a minimalist seeking a clean and sleek aesthetic or an artist looking to infuse your blog with vibrant, eye-catching hues, this theme empowers you to create a digital space that feels uniquely yours.
But that's not all. Narrative Lite goes above and beyond by offering seamless integration with an online shop. So, if you're an aspiring entrepreneur or simply want to monetize your blog, you'll find that Narrative Lite is more than up to the task. In short, with its blend of customization options and e-commerce capabilities, there's very little that Narrative Lite can't help you achieve in the world of modern blogging.
Price: free of charge, Premium Version started from $49
Average rating: 4.5 out of 5 stars
Major benefits:
Customizable fonts and colors for personalization
SEO-friendly for better visibility
Mobile-responsive design for accessibility
Modern and stylish blog appearance
---
Conclusion
Therefore, finding a suitable WordPress theme need not be a time-consuming or expensive process. Many free themes offer responsive and attractive designs, thus premium themes are not always required. Your chosen theme must be in line with your online goals if you want to succeed. You may build a successful and interesting website without spending a fortune by investigating the themes covered here and choosing the one that fits your idea.
Thank you for taking the time to visit Wedevstudios and read this article. Your support is greatly appreciated. If you're ready to embark on your website-building journey using our free WordPress themes, we're here to guide you every step of the way.