Are you prepared to upgrade your WordPress magazine website in 2023? Staying current with the newest design trends and features is essential in this digital age for grabbing and holding your audience's attention. We've thoroughly compiled a list of the "15 Free Magazine Themes for Your WordPress Site" that are predicted to be the top solutions accessible in the current year to assist you in achieving your goal. These themes guarantee that your website looks fantastic and offers a fluid reading experience in addition to having beautiful aesthetics and user-friendly functionality.
You can quickly find the ideal match for your content with our broad collection of magazine themes, which spans a variety of genres and design preferences. These themes are created to meet your individual demands, whether you own a fashion blog, a tech news site, or a lifestyle publication. Additionally, you may improve your website without breaking the budget because they are free. Join us as we explore the fascinating world of WordPress magazine themes and learn the best ways to make your website stand out in 2023.
With the help of these 15 well selected free magazine themes, you'll have all you need to build an interesting and beautiful WordPress site. These themes are packed with features to make your content stand out in addition to being responsive and customizable. This year, don't pass up the chance to improve your internet profile. Together, let's examine these themes to make sure your WordPress magazine site is still at the cutting edge of functionality and design in 2023.
Best WordPress Themes For Magazine (Tested & Compared)
Default Mag
An excellent alternative for a variety of websites, including blogs, magazines, and newspapers, "Default Mag" is a dynamic WordPress Magazine and blog theme that combines simplicity, responsiveness, and many layout possibilities. This theme stands out thanks to its imaginative and well-polished design, which not only gives your website a beautiful touch but also makes sure your content is presented in an appealing and user-friendly way.
Flexibility is one of "Default Mag"'s" greatest features. It provides an extensive number of customization choices and unique widgets, simplifying the website setup procedure and enabling you to create the ideal look that matches your vision. In addition, it is cross-browser compatible, which guarantees that no matter what browser or device your audience uses, they will still find your website to be visually appealing and captivating.
This theme places a high priority on functionality over appearance. It has code that is optimized for search engines and is SEO-friendly, increasing the visibility of your website. Additionally, it includes excellent support to efficiently handle your needs. With the helpful One Click Demo Import feature, "Default Mag" makes it simple for you to download demo data from documentation link and manually import it, streamlining the setup process. Experience the excellence of "Default Mag" and take your website to new heights.
Price: free of charge, Premium Version for $59
Average rating: 5 out of 5 stars
Major benefits:
Versatile layouts suit various content
Custom widgets simplify site setup
Clean and responsive design for versatility
One Click Demo Import for easy setup
---
Mahalo
Introducing Mahalo, a cutting-edge WordPress theme specially designed for news and portal platforms in the digital age. Mahalo's sleek and modern design caters solely to online newspapers and portals, offering a dynamic, responsive layout that works flawlessly on any device. This theme is the best option for creating captivating and interactive news magazine websites because it combines powerful functionality with user-friendly simplicity. And what's the best part? It's totally free!
Mahalo offers an attractive and highly useful interface, redefining the landscape of digital news. The user experience is improved across all platforms thanks to its responsive design, which guarantees that your content looks perfect on desktops, tablets, and smartphones. Mahalo gives you the tools to captivate your audience, regardless of whether your news organization is well-established or just getting started, with aesthetically pleasing layouts and an approach to content management that is user-friendly.
With Mahalo, you can unlock the potential of your online newspaper or portal website, elevating it to new heights of engagement and professionalism, all without breaking the bank. Experience the future of digital journalism with Mahalo – the WordPress theme that reimagines news and magazine websites.
Price: free of charge, Premium Version for $59
Average rating: 5 out of 5 stars
Major benefits:
Responsive, adaptable layout on all devices
Intuitive, user-friendly interface for easy navigation
Professional, magazine-style website aesthetics
Customized for news and portal site needs
---
Starter Gazette
Introducing Starter Gazette, a stunning News/Magazine WordPress theme carefully designed for intelligent professionals who value simplicity and clean design. This theme offers a visually stunning and seamless browsing experience across all devices, including mobile, tablet, and desktop, with its retina-ready and fully responsive design. Starter Gazette is the ideal platform for showcasing your precious content and excellent writing skills thanks to the tireless efforts of team of developers and designers, who have created a meticulously crafted layout that embodies sophistication.
Starter Gazette presents a platform that promotes clarity and simplicity rather than just a theme. This theme offers the perfect setting to improve your online presence, whether you're a seasoned journalist, a dedicated blogger, or an aspiring writer. Its clean lines and simple layout let your content take center stage, guaranteeing that readers will be attracted by ideas and insights. Starter Gazette allows you to provide your audience with an eye-catching and engaging experience in addition to news and stories.
In a world where information is readily available Starter Gazette distinguishes you from the competition by providing a high-quality, user-friendly theme that not only goes with your content but also improves it. Join the group of entrepreneurs who recognize the strength of simplicity and expertise, and let Starter Gazette give your online presence a boost like never before.
Price: free of charge, Premium Version for $59
Average rating: 5 out of 5 stars
Major benefits:
Excellent performance and fast loading
Stunning typography and color choices
Fully responsive, mobile-friendly layouts
SEO-optimized for higher rankings
---
Eximious Magazine
A captivating online presence is essential in the constantly changing world of digital media. Enter Eximious Magazine, a versatile WordPress theme carefully developed to empower your online magazine with stunning design, unmatched flexibility, and a wealth of powerful features. Eximious Magazine is the game-changer you've been looking for, regardless of whether your publication is established or just getting started.
The potential for publication is unlimited with Eximious Magazine. Its bold design will seize the attention of your audience right away, illuminating your content like never before. Because of the theme's adaptability, you can completely customize the look and feel of your magazine, giving readers a distinctive and engaging reading experience. Furthermore, its strong features ensure easy navigation, interesting user interactions, and the tools required to keep your audience coming back for more.
Eximious Magazine stands out as the go-to option for online magazines looking to flourish and captivate their audience in a crowded online environment. With a theme that turns your publication into an online force, bid ordinary farewell and welcome the extraordinary. Eximious Magazine helps you realize the full potential of your online magazine by fusing beautiful design, adaptability, and powerful features to redefine your online presence.
Price: free of charge, Premium Version for $59
Average rating: 5 out of 5 stars
Major benefits:
Built-in social media integration
Ad placement options for monetization
Speedy performance ensures optimal loading
Excellent customer support for assistance
---
Infinity News
Infinity News is a dynamic and contemporary WordPress Theme meticulously crafted for bloggers, online journals, magazines, and news portals. This theme is a breath of fresh air for those who are passionate about sharing their articles, stories, and global news because it was created to cater to the diverse needs of bloggers and news publishers. Infinity News is your go-to choice if you operate a travel blog, an entertainment hub, or a platform for viral content. It easily supports projects like specialized blogs, news portals, and professional magazines thanks to its slick aesthetics and flexible features.
One of Infinity News' greatest features is its user-friendly WordPress Live theme Customizer, which enables bloggers and writers to easily personalize their news, stories, and articles. The theme also provides a variety of unique blog layouts to make sure your content is presented in an attractive way. Additionally, Infinity News offers RTL support, new widgets for enhanced functionality, and blazing-fast page loads, making it an all-encompassing option for any content creator looking to make their mark in the online world.
To put it simply, Infinity News is a cutting-edge and adaptable WordPress theme that meets the demands of bloggers, journalists, and content producers. It's the best option for anyone looking to spread their stories and news around the globe thanks to its cutting-edge design, adaptable features, and impressive performance.
Price: free of charge, Premium Version for $59
Average rating: 4.8 out of 5 stars
Major benefits:
RTL support for global accessibility
Quick setup and user-friendly experience
Modern, vibrant, and trendy aesthetics
Enhanced widgets for added functionality
---
NewsVista
Introducing "NewsVista," a revolutionary WordPress magazine theme that combines the best of both worlds. It's not only free, but it's also incredibly lightweight, resulting in blazingly quick performance for your website. Install the theme, make a new page, and select the homepage template to get started setting up your magazine. Make your newly created page the homepage in your reading settings by simply doing so. The real game-changer, however, is NewsVista, which gives you the ability to create the ideal magazine layout with ease. You have total control over your magazine's appearance and functionality thanks to its user-friendly customizer option panel and its helpful native widgets area, allowing you to truly personalize your website.
For those seeking a seamless, effective, and fashionable magazine website, NewsVista is the best option. With NewsVista, where speed, simplicity, and customization all work in harmony, you can wave goodbye to the hassle of complicated setups and welcome the future of magazine themes. The adventure of your magazine with NewsVista starts here, and it's sure to be thrilling.
Experience the flexibility of performance and creativity like never before with NewsVista, which is here to transform the way you interact with magazine websites. Welcome to a new era of WordPress magazine themes where your ideas are easily realized and your audience is enthralled by form and function. The options for your magazine website are infinite when you choose NewsVista now.
Price: free of charge, Premium Version for $59
Average rating: 4.5 out of 5 stars
Major benefits:
Easy setup and homepage customization
Free, lightweight, and lightning-fast performance
Intuitive customizer for perfect layouts
Simplifies complex website setups
---
Magazine Elite
Magazine Elite is the benchmark platform that enables people to unleash the limitless potential of their creativity. Whether you're an experienced blogger, an aspiring author, or a versatile content creator, this all-inclusive solution is made to take your online presence to new heights. With Magazine Elite, you can easily convert your concepts, interests, and narratives into captivating online experiences while displaying a distinctly individual sense of style and flair.
Essentially, Magazine Elite provides a wealth of elegant and modern layouts that will help your blog stand out in the crowded online space. The era of uninspired artwork and generic templates is over. As an alternative, you can savor the freedom to create a singular and visually stunning online space that captures your uniqueness. Additionally, the platform offers a plethora of settings and editable widgets that let you customize every aspect of your website to your tastes and give your visitors an unforgettable user experience.
Magazine Elite stands out as the clear choice for those who want to create an enduring impression on the web in a world where having an online presence is crucial. More than just a tool, it's a chance to let your imagination run wild and your voice be heard. Join us on this adventure and use Magazine Elite to maximize your digital storytelling.
Price: free of charge, Premium Version for $59
Average rating: 4 out of 5 stars
Major benefits:
Stunning, customizable layouts for unique websites
All-in-one solution for content creators
User-friendly settings for easy customization
Captivating layouts for dynamic content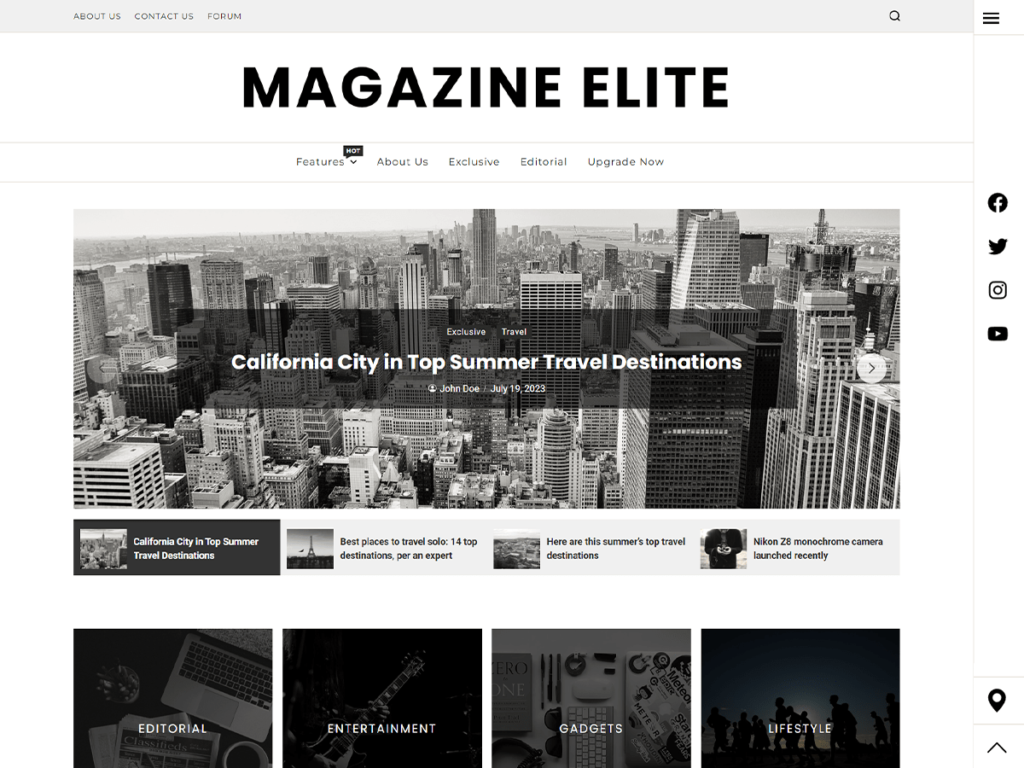 ---
Seek
Seek is a versatile and painstakingly created WordPress theme created to meet the changing demands of online magazines, newspapers, editors, journalists, and various content-driven websites. A seamless user experience across various devices and browsers is guaranteed by its clean, original layout and responsive design. The goal of Seek is to provide content creators, educational platforms, digital news media, bloggers, and bloggers with a strong and well-organized platform for exchanging knowledge and stories.
The effectiveness of Seek's content management, speed, and search engine optimization are some of its standout features. As a result, it is an effective tool for anyone looking to increase their online visibility and interact with more people. By offering features like like-dislike options and simple reader connectivity, Seek also seamlessly integrates with plugins like Booster Extension and Mailchimp Subscription, enhancing your website's social sharing capabilities and user engagement.
Whether you're working with the traditional or new editor, Seek ensures a hassle-free setup process, making it a user-friendly choice for anyone looking to create an eye-catching, feature-rich, and reader-friendly online platform. With Seek, you can embark on a digital journey that captivates your audience and establishes your online presence as a go-to source for news, articles, and engaging content.
Price: free of charge, Premium Version for $59
Average rating: 4.5 out of 5 stars
Major benefits:
Integrates Mailchimp for subscriber engagement
Speed optimization for quicker load times
SEO optimization boosts search ranking
Compatible with both old/new editors
---
NewsMotive
Introducing the Newsmotive WordPress theme – a true masterpiece tailored for the dynamic world of news and magazine websites. Introducing the truly amazing Newsmotive WordPress theme, created specifically for the dynamic world of news and magazine websites. With its extensive collection of powerful features and functionality, Newsmotive redefines excellence and establishes itself as the ideal option for all of your WordPress-based journalistic endeavors. Create captivating and visually compelling content with the help of Newsmotive's impressive array of cutting-edge tools, which were designed to meet the changing requirements of modern media outlets. This theme gives you the flexibility and adaptability required to deliver an exceptional user experience, regardless of whether you manage a busy news portal, a digital magazine, or a personal blog.
At the core of Newsmotive is a remarkable collection of features that easily set it apart from the competition. This theme guarantees that your content is seen by a larger audience and keeps them interested over time thanks to its adaptable layouts and simple navigation options. It's your pass to boosting your online presence, captivating your audience, and delivering your content in the most effective and feature-rich way possible. Welcome to Newsmotive, the ultimate WordPress theme created to elevate your news and magazine website to new heights.
Price: free of charge, Premium Version for $59
Average rating: 5 out of 5 stars
Major benefits:
Extensive Typography Options for theme
Versatile Layouts Catering to Varied Content
Seamless Customization for Unique Branding
Built-in Analytics for Performance Tracking
---
Magazine Saga
Magazine Saga is a lightweight and user-friendly WordPress theme that serves both seasoned bloggers and aspiring ones. This theme is a fantastic option for news organizations, magazines, and personal blogs alike thanks to its clear, contemporary style, feature-rich functionality, and simple usability. In addition to having amazing looks, Magazine Saga places a high priority on performance and blazingly quick loading times.
One of Magazine Saga's unique features is its comprehensive customization possibilities, which let you quickly and easily design a unique and appealing homepage. It refers to the latest trends in SEO and shines in clean coding and great design, assuring quick page loading time. Additionally, this theme is naturally social media friendly, which makes it simple for people to interact with your material.
The goal of Magazine Saga is to keep your audience's attention firmly fixed on the material, which is what matters most. Whether you're an established blogger or a newcomer, this theme gives you the tools to create a memorable online experience.
Price: free of charge, Premium Version for $59
Average rating: 5 out of 5 stars
Major benefits:
Feature-rich and customizable functionality
Integrates clean SEO practices seamlessly
Clean, modern, and user-friendly design
Engaging and unique homepage designs
---
Newsreaders
A feature-rich and versatile WordPress magazine and news theme called Newsreaders was created to fulfill the various requirements of online publications and content producers. Newsreaders provide a user-friendly experience for a wide range of users, including online magazines, newspapers, editors, journalists, bloggers, instructive sites, educational websites, content writers, and digital news media platforms. Newsreaders' simple and elegant design is also appealing to a wide range of users, including bloggers and content creators.
The responsiveness of Newsreaders is one of its primary advantages, ensuring that your website looks gorgeous and performs smoothly across a range of devices and browsers. Because Newsreaders are cross-browser compatible, your content will look appealing and appealing to readers whether they are using a desktop, tablet, or smartphone to access it. Newsreaders stands out because to its emphasis on optimization, which includes SEO, speed, and content management. This guarantees that your website will perform well in search engine rankings, look fantastic, and have quick loading times for a fun user experience.
With extra features like the Booster Extension plugin, newsreaders go above and beyond the fundamentals. Offering tools and options that increase user involvement, improves the functionality of your website. Additionally, Newsreaders adds a like-dislike function that promotes one-on-one interactions with your audience. With Newsreaders, you have a powerful and all-encompassing platform to build an engaging online presence that appeals to your target audience and entices them to return for more.
Price: free of charge, Premium Version for $59
Average rating: 4.5 out of 5 stars
Major benefits:
Boosted functionality with Booster Extension
Swift loading for improved user experience
Highly organized layout for easy navigation
Cross-browser compatibility for wider reach
---
NewsReach
Introducing the Newsreach theme, an innovative and modern WordPress solution carefully designed to satisfy the various needs of newspaper and magazine websites. This customizable theme expands its capabilities to a wide range of media, including neighborhood newspapers, specialized journals, vibrant blogs, and even national weekly newspapers. Newsreach, with its cutting-edge capabilities and stylish modern design, is essentially the perfect solution to all of your digital publishing demands.
Newsreach operates in a variety of fields and is tailored for discerning aesthetic lifestyle magazines, online fashion platforms, fashion bloggers, editors, style trend enthusiasts, health and beauty aficionados, creative designers, and advocates of healthy living. It promises an outstanding user experience with its blazingly quick performance, compact foundation, and seamless responsiveness. Additionally, Newsreach was carefully designed with SEO optimization in mind, allowing your website to gain a higher Google rating and increase its online visibility.
With the help of Newsreach, you can make your online publication into an engaging and user-friendly platform that not only keeps readers interested but also takes your material to new heights in the world of the internet.
Price: free of charge, Premium Version for $59
Average rating: 5 out of 5 stars
Major benefits:
Supports creative designer portfolios
SEO optimization for Google ranking
Lightweight framework for efficient operation
Niche-specific features and customization
---
ExtendedNews
The unique ExtendedNews WordPress theme was created to transform your news and magazine websites. This theme promises to take your online content to new heights with its sleek and contemporary design. ExtendedNews ensures that your website looks amazing on all platforms because it was designed with responsiveness in mind, providing your audience with the best possible user experience.
Its widgetized design, which allows users to easily manage and modify their information, is one of its unique characteristics. The theme's simple-to-use widgets make creating content a breeze, regardless of whether you are an experienced developer or a beginner. Additionally, ExtendedNews provides a wealth of configurable choices with its user-friendly customizer, enabling you to create a visually stunning and engaging news site that precisely complements your corporate identity.
For those looking to build a cutting-edge, quick, and user-friendly news and magazine website while keeping a look that will fascinate your audience, ExtendedNews offers a strong and adaptable option.
Price: free of charge, Premium Version for $59
Average rating: 4.5 out of 5 stars
Major benefits:
Widgetized content management simplifies customization
Multiple post formats for diverse content
Customizable color schemes for brand consistency
Ad-friendly features maximize revenue potential
---
Newswave
Looking to design a beautiful online news or magazine? Meet Newswave, a stunning free WordPress theme that combines elegance and usability. Its minimalistic style ensures a visually appealing and interesting user experience, making it ideal for a variety of websites, including personal blogs, modern news journals, fashion magazines, travel journals, and dynamic news platforms.
Newswave offers you a wide range of customization possibilities with the live customizer, going far beyond mere aesthetics. This includes that you can easily customize your website to suit your specific interests and view changes as they happen. Additionally, Newswave ensures that your site will look flawless on screens of all sizes, from the smallest mobile devices to the largest desktops and laptops thanks to its full responsiveness.
But there's more than that! It's a snap to mix your love of blogging with your online commercial ventures thanks to Newswave's seamless integration with well-known plugins like Elementor, Gutenberg, and WooCommerce. It even supports RTL languages and offers excellent search engine optimization, ensuring that your website's visibility and ranking grow. In the world of WordPress blogging, Newswave is where form meets function.
Price: free of charge, Premium Version for $59
Average rating: 5 out of 5 stars
Major benefits:
Free and user-friendly WordPress theme
Real-time customization with live customizer
Supports RTL languages
Compatibility with WooCommerce for e-commerce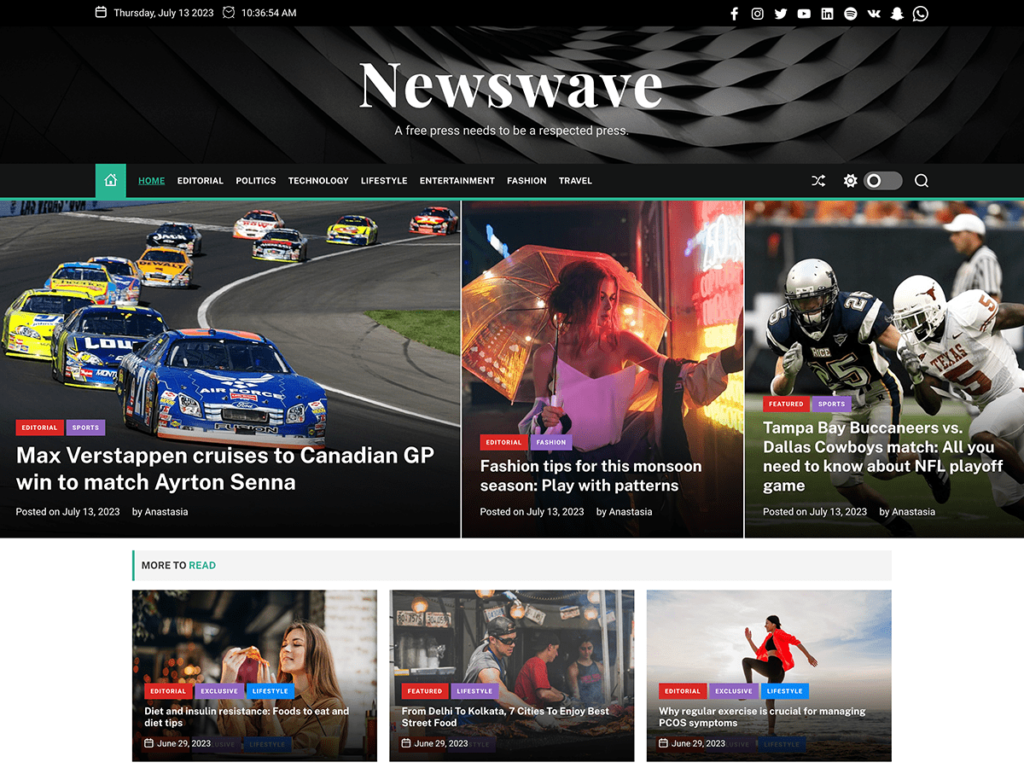 ---
NewsFor
NewsFor is an amazing WordPress theme created to improve the online visibility of magazines, newspapers, and digital news media providers. Editors, journalists, bloggers, and content producers should choose NewsFor because of its distinctive performance-optimized design, which provides a clean, responsive, and highly organized interface. NewsFor is designed to satisfy your demands whether you are operating an educational platform, an informational website, or any website of a similar nature.
This theme has a ton of fantastic features that will make your website stand out in the crowded digital market of today. It has been carefully designed to satisfy both seasoned experts and upcoming content producers. NewsFor highlights SEO, speed, and content management to make sure that your site not only looks great but also functions wonderfully. Additionally, your site will continue to be appealing and user-friendly across all platforms because of its cross-browser compatibility and support for different device screen sizes.
Furthermore, NewsFor provides useful extensions like the Booster Extension, which enables direct contact with your audience and guarantees that your readers have an enjoyable and excellent experience on your website. By using NewsFor, you have access to the resources you need to build an engaging online news center that keeps your audience informed and interested.
Price: free of charge, Premium Version for $59
Average rating: 4 out of 5 stars
Major benefits:
Multi-layout options for creative flexibility
Eye-catching design for user engagement
Enhanced with Booster Extension for connections
Responsive design for mobile accessibility
---
Conclusion
Finally, choosing the ideal theme for your WordPress website doesn't have to be a time-consuming or expensive procedure. There are many free WordPress themes available that offer responsive and attractive designs, so using premium themes is not a necessary. The secret is to pick a theme that supports your online goals.
We extend our heartfelt gratitude for visiting Wedevstudios and taking the time to read this article. Your support is immensely valued. If you're interested in learning how to create a website using our collection of free WordPress themes, we invite you to explore our resources and embark on your online journey with confidence.